The Big Band of Rossmoor presents "Music and Dance with a free Root Beer Float."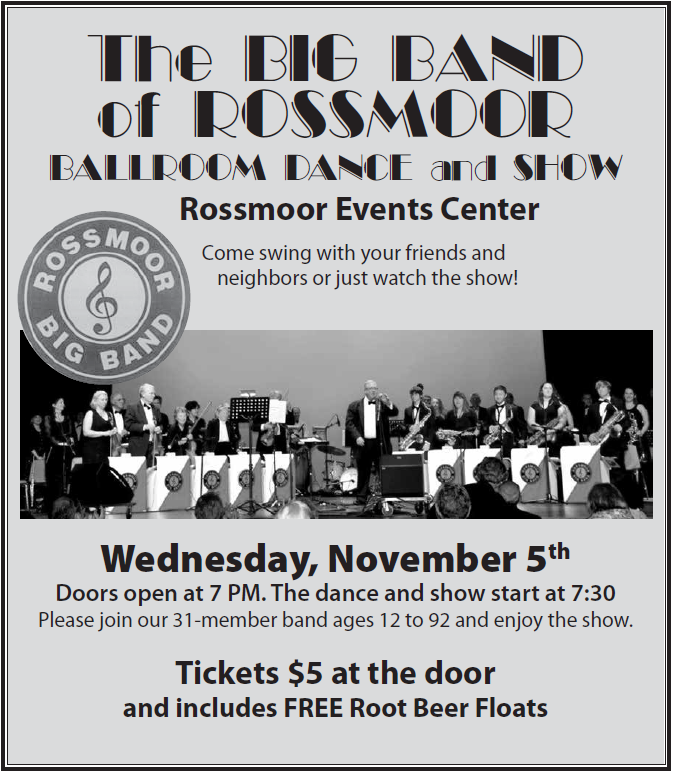 Which do you prefer?  A Big Band Show or A Big Band Dance?  Your invited to both as The Big Band of Rossmoor performs a swingin show. Root Beer Floats are a signature piece of the bands culture. All ballroom dancers are encouraged.
The show features dance tunes from the WWII songbook as well as movie tunes from Broadways' most popular shows. In addition the songs that Fred Astaire danced to on the movie set are included in the Fred Astaire Medley.  This original compositions are written by Rossmoor's own Frank Como.
Generations In Jazz Foundation is particularly proud to present The Big Band of Rossmoor featuring musicians ranging from 12 years old to 92.  Together these musicians will share with you both music and their different cultures as they blend yesterday with today.
The music of the big band era has not changed but its musicians are changing.  Enjoy this multi-generational band in the last of its 14 performances during 2014.
Tickets are $5 at the door. Doors open at 7 and the show and dance begin at 7:30.
Come dance or watch the show on Wednesday November 5.
Free Root Beer Floats are provided by The Big Band of Rossmoor students and parents.
For concert or show free updates click on "Become A Member" at the very top right.  Membership is free.  Music is good for you!