King David Suite – 2014 Broadcast with Phil Schaap and Winnepeg Symphony Performance
Full performance go to track 4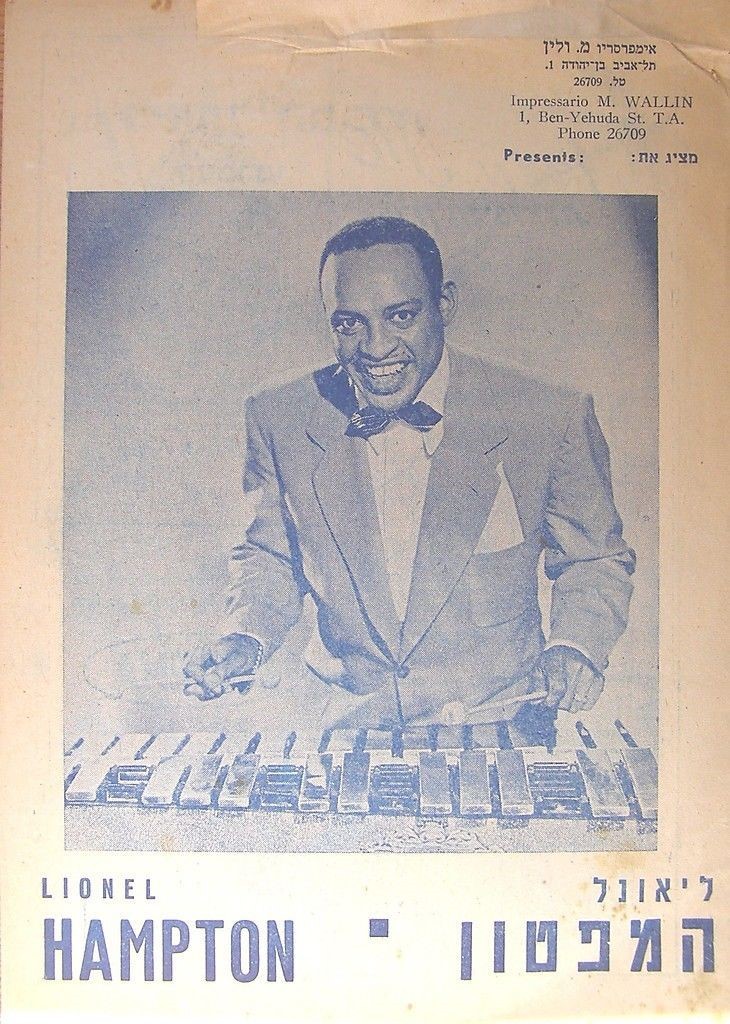 Introduction
     After a fire gutted the New York home of 83-year-old Jazz legend Lionel Hampton, one of the first things he said once safely out of the building was, "Where is my King David Suite?" Why, when Lionel had just lost all of his possessions, instruments, photos, and the many symbols of his lifetime of achievement, would he be singularly concerned with one of his lesser-known symphonic pieces? The goal of this report is to answer that question, and to gain better insight into the significance of the King David Suite.
Biography
     Lionel Hampton was born in 1908 and would go on to become a jazz star who played with the likes of Benny Goodman and Louis Armstrong. Inspired by the powerful musical performances he experienced while at church, Hampton started taking drum lessons at an early age and discovered what he later called the "beat in me."  At the age of 15, he moved to Los Angeles to realize his musical dreams and performed in a back-up band for Louis Armstrong. During a 1930 recording session with Armstrong, Hampton began experimenting with the vibraphone, which would later become his signature instrument.
In 1936, while black Americans were still suffering under strict segregation laws, Hampton joined Benny Goodman to form the first racially integrated jazz group: the Benny Goodman Quartet. This joint venture was ground-breaking at a time when, for instance, black musicians were prohibited from using the "whites only" restrooms at performance venues.  When later asked in 1983 by a writer for "Jazz Professional" to reflect about the importance of Goodman forming an integrated band, Hampton said:
I understand what Benny was doing. Benny was integrating the musicians at that time. Black and white had never played together; this was integration, and it was a total success. And Benny protected it that way, you understand. I would say that this was the front door to Jackie Robinson getting in major league baseball—because at that time no blacks were playing no place. They weren't playing in basketball, football, on the stage; they weren't making any appearance together in public with whites. But we were doing North, South, East and West—and we were the rage.
Although Hampton assigns a lot of credit to Goodman for creating an integrated touring band, Hampton's participation and success with the group undoubtedly opened the minds and hearts of those he performed for because of his talent, enthusiasm, and respect for the music.
After successfully touring with Goodman, Hampton formed his own band in 1940 and the Lionel Hampton Orchestra became a success with such songs as "Flying Home," "Hamp's Boogie Woogie," and "Hey! Ba-Ba-Re-Bop." Hampton's energetic style as a bandleader led to high popularity in the United States. In his book, Follow Your Heart, band member Joe Evans said of Lionel that:
There was no performer like Lionel Hampton. He was the most exciting bandleader I have ever worked with and he inspired the band to reach the same standard. No matter where we were, the audiences responded. I was never with a band that aroused people the way Hamp's did.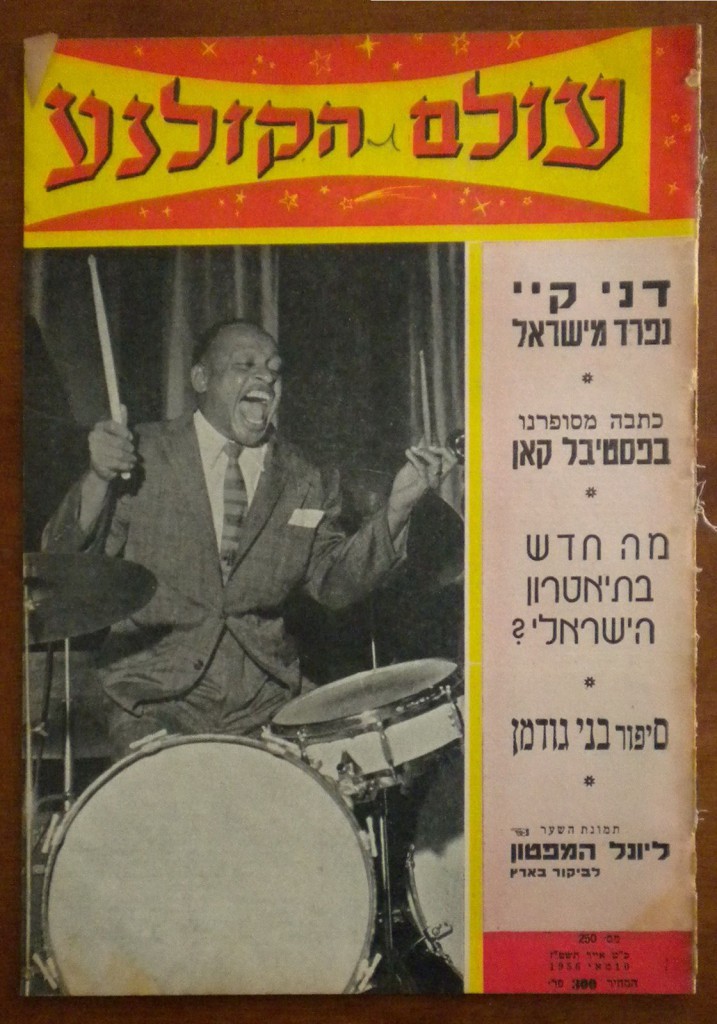 By 1954, the Big Band movement was declining in the United States but was gaining in popularity in other parts of the world as jazz was spreading worldwide. During the course of his jazz career, Hampton and his band performed in a total of 20 countries.[1]
Introduction to Israel
     Israel was formed in 1948, and American jazz slowly took hold in the new country by way of radio broadcasts and a few live performances. In the late 1950's, Hampton and his band were invited by Itzhak Ben Zvi—who would eventually become the second president of Israel—to perform in Israel. Ben Zvi hoped Hampton's visit would build morale during a tumultuous time for the new country. After receiving a staggering welcome, Hampton and his band played 48 concerts in four weeks at venues ranging from concert halls to Army camps. Of one particular performance, Hampton recalled to a reporter for "Downbeat Magazine" how:
In Beersheba we played to an enthusiastic audience of 5,500 border guards near the Gaza Strip. They were mere teenagers. Just boys and girls—but they showed their appreciation by beating time to the music on the butts of their tommy guns. I'll never forget that day—and I don't think they will, either.
During this tour, Hampton was not only able to spread the music that he loved to a new audience, but also developed a deep connection to Israel that he later demonstrated by composing the King David Suite.
Inspiration for the King David Suite
     During his first trip to Israel, Hampton deepened his appreciation for both Israel and the Jewish faith. Of particular importance was the time Hampton spent with Chief Rabbi Yitzhak HaLevi Herzog when the Chief Rabbi invited Hampton into his home.  While Hampton "hoped to have a Bible discussion . . . instead, the rabbi insisted on a lively discourse on boogie-woogie." After their conversation about the importance of jazz, Hampton recalled that the Chief Rabbi showed him a "treasured ancient scroll of the Torah and a scale model of an ultra-modern temple" and presented him with a Bible inscribed with, "To a true friend of Israel, Mr. Lionel Hampton. May God watch you and save you from any ill for now and forever."
This meeting between the two men was surely one inspiration for Hampton's future King David Suite as he later dedicated the symphonic piece to the Chief Rabbi. Hampton also cites visiting the tomb of King David as a source of inspiration for the Suite. Hampton recalled in a 1993 interview for the Moscow Pullman newspaper: "'I remember I walked into the tomb and looked around for a few minutes' Hampton recalled. 'I was thinking about David and his harp, and a chant just came to me.'"
[1] The countries he toured include: Algeria, Australia, Belgium, Canada, Finland, France, Germany, Denmark, Israel, Japan, Morocco, Netherlands, Norway, Philippines, Russia, Sweden, Switzerland, Thailand, Tunisia, and the United States.
Between performing for troops and citizens in Israel, the time he spent with Chief Rabbi Herzog, and the inspiration he felt in the tomb of King David, Hampton was compelled to create the King David Suite.[2]
Touring with the King David Suite
     Composed in 1953, the King David Suite is one of Hampton's few symphonic works. Hampton performed the Third Stream[3] piece throughout the world with both his band and a full orchestra. Frank Como, Hampton's arranger for 20 years, gave this insight about touring with The King David Suite:
Upon completion of the work Lionel began booking concerts with the symphony orchestras throughout the country. The first concert was with the Boston Pops Orchestra with Arthur Feidler. It was televised on PBS in the early 70's. Some of the other concerts were with the Houston Symphony, Dayton Symphony, Indianapolis Symphony, San Diego Symphony, Columbus Symphony, Georgia Symphony, and the Winnipeg Symphony. These concerts were very successful for Lionel and exposed him to a new audience.
During performances, Hampton and his jazz ensemble would sit in the middle of the orchestra so that the music blended.
In 1955, Hampton described to a local newspaper the reception that the piece received when he performed with the St. Petersburg Russian Symphonic Orchestra at the Munich Opera House during a European tour:
'We played with a seventy-five- or eighty- piece symphony orchestra and it sounded like it was comin' from heaven,' Hampton said. 'The audience must have clapped for forty minutes and they brought us back for seven encores. It was quite a tribute to my hard work.'
The reception for the King David Suite appears to have been enthusiastic and extremely supportive worldwide. The way that Hampton spoke about the work, and the love that audiences had for it, gives further insight into both why the Suite was so special to him and why he was devastated that the King David Suite burned in the 1998 fire. Luckily, the story does not end there.
[2]It is also possible that the title of the work is connected to the King David Hotel in Jerusalem. The hotel bar was a jazz hot spot, and Hampton could have performed there while on tour.

[3] During a broadcast on June 18, 2014, Phil Schaap, Lincoln Center's jazz curator, gave the definition of Third Stream:

He (Hampton) started working on what I will call a Third Stream work. And Third Stream is a term coined by Gunther Shuller, still very much with us, of the merger of Western classical music with jazz—that has always been around even before jazz, take ragtime for instance, but became a prominent element of the jazz world, indeed the music world, in the 1950's when the term was coined by Gunther Shuller, and he wrote a number of works in the idiom. The concept, similar to the three rivers at Pittsburgh, the Monongahela, and the Allegheny meet, and they stop as they forge yet a third river, or stream, which is the Ohio—the Ohio River.  So that's the concept behind Third Stream, that vision of two things merging and becoming a third thing not either of what they had been, but a new thing.
Rediscovering the King David Suite
     In 2008, Maurice Levich, Cofounder of Generations in Jazz Foundation and conductor of the Rossmoor Big Band in Walnut Creek CA, visited Lincoln Center and purchased a framed record of Hampton's In the Mood for Swing, signed by Wynton Marsalis, and met with the jazz curator Phil Schaap. During their discussion, they discovered that they had both worked with Frank Como, Hampton's colleague and friend. Before Levich left, Schaap asked him to "find the King David Suite."
Many, including Schaap, believed that the last remaining complete copy of the King David Suite was destroyed in Hampton's apartment fire. However, a series of events led to the rediscovery of the surviving version.
Upon arriving home, Levich contacted Como and asked if he knew if there were any remaining copies of the King David Suite. Como shared that Hampton commissioned him to orchestrate the King David Suite in the early 70's, and then said "I have the original." By "original," Como meant that he had Hampton's original stage copy of the King David Suite— including Hampton's own hand-written notes and revisions. It would appear that the answer to Hampton's question, "Where is my King David Suite?", had been answered. The last remaining copy was with his trusted friend and colleague, Frank Como.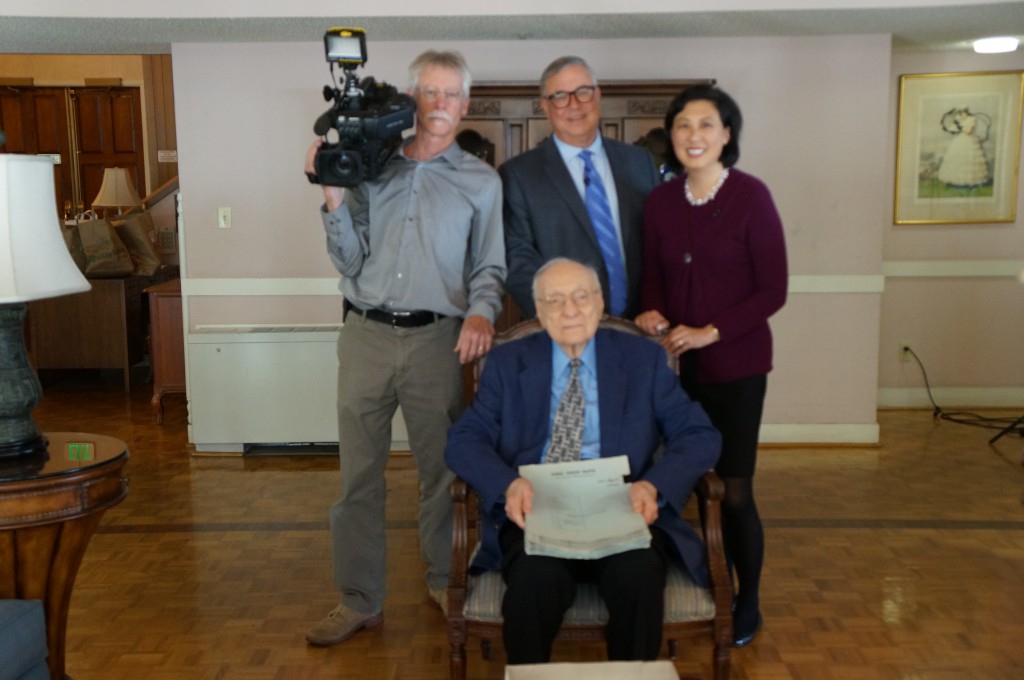 Pictured above are Frank Como (seated with the King David Suite), Maurice Levich (middle), CBS Channel 5 reporter Sharon Chen (right), and camera operator Robert Moonan (left) after an interview about the rediscovery of the King David Suite.
What Happens to the King David Suite?
     Now that the only surviving copy of the King David Suite has been found, the question of what to do with such a significant piece of jazz history requires consideration. Believing that Israel's history and people inspired Hampton to create the piece, and because of the friendship Hampton had with David Ben-Gurion, Frank Como thought it would be fitting that the Suite be archived at Ben-Gurion University of the Negev. Here, the last original physical copy can be safely stored, shared, and revered without fear that it will be lost again.
Additionally, because music should not only exist on a page, Maurice Levich wishes to have the historical Third Stream piece played again so that new audiences may appreciate the magic of the King David Suite. He hopes new listeners will consider how Hampton was able to use music as a medium to cross racial and cultural boundaries with his message of inclusivity. Levich's ultimate goal is to have the newly resurrected Lionel Hampton Band, now featuring Jason Marsalis, tour the world with various symphonies to reintroduce the King David Suite. If this dream is realized, Lionel Hampton's rich contribution to both the musical world and to humanity will continue on for years to come.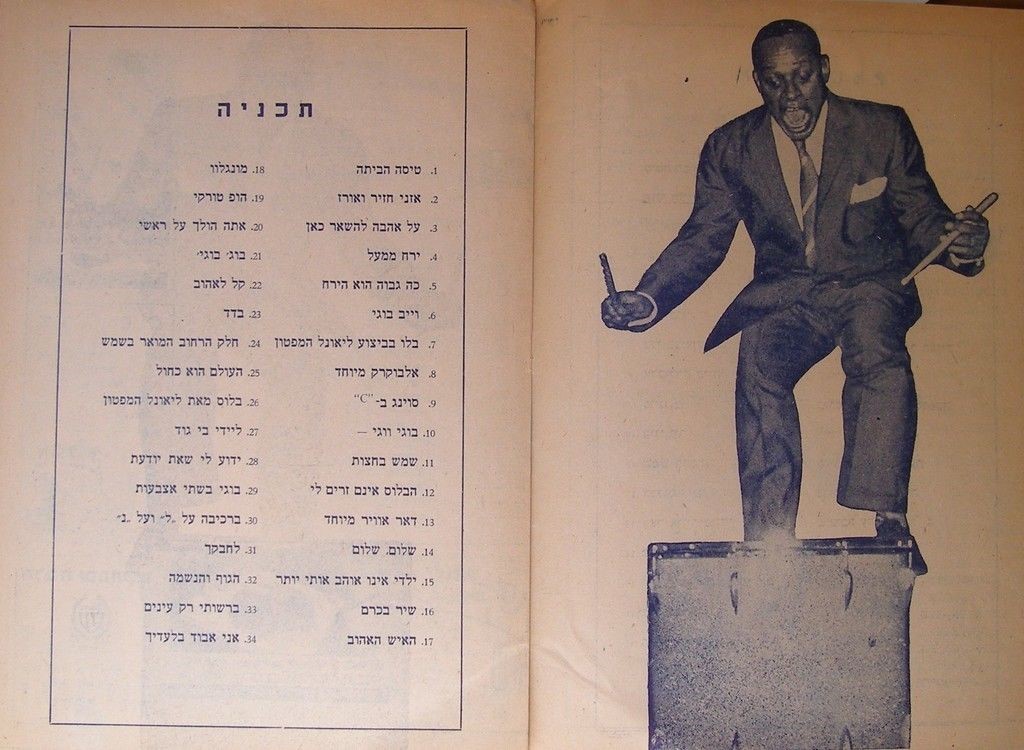 Prepared by Jacqueline Smith and Maurice Levich
Acknowledgments
Frank Como- Original Arranger for the Lionel Hampton Band
Phil Schaap- Lincoln Center Jazz Curator, Jazz Historian, and Broadcaster
Professor Rivka Carmi- President of Ben-Gurion University
Judith Alterman- Regional Director of Ben-Gurion University
Janet Thiry- Project Assistant
Jason Marsalis- Featured Artist for the new Lionel Hampton Band
Jacqueline Smith- Senior Researcher